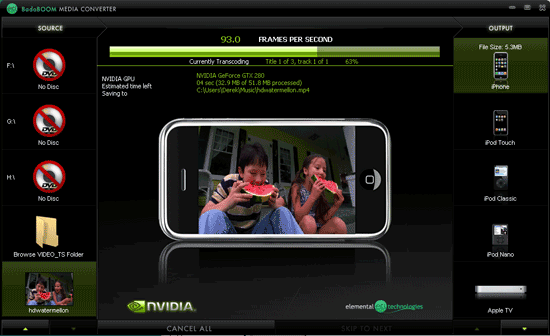 Badaboom eliminates the frustration of video conversion by providing users with speed, efficiency, quality, and a sleek interface. In a practice that used to take several hours, Badaboom converts feature-length movies in a matter of minutes while keeping the videos looking crisp and clear.
By harnessing the power of NVIDIA CUDA-enabled GPUs, Badaboom offloads the CPU to allow users to continue browsing the Internet or checking email without decreased system performance, making transcoding high-quality video fast, easy, and painless.
Badaboom was designed with a few key benefits in mind. Other media converters may show strength in one or two of these traits, but Badaboom goes above and beyond by striving to excel in each area. The application's versatility is unmatched, whether it's transcoding at hundreds of frames per second or converting a video to a resolution of 1080p.

The four cornerstones of Badaboom:

· Transcoding Speed – Badaboom is fast! Instead of taking hours to convert a movie to play on your iPod, it can now be done in a matter of minutes.

· Efficient Use of Your System Resources – Badaboom converts video using the GPU, which offloads the CPU so you can continue to browse the Internet or check email without slowing down your system.

· Uncompromised Video Quality – The algorithms used to develop the Elemental H.264 encoder ensure that videos transcoded using Badaboom maintain the highest possible quality.

· Ease of Use and Flexibility – The Badaboom user interface lets you easily drag and drop your video, select a device and go! Alternatively, Badaboom's flexibility lets you easily customize your settings.

Badaboom 1.2 Specifications

Input Video Formats

MPEG-2 | H.264/AVC | AVCHD | HDV | RAW* | MPEG-1 | WMV | VC-1 | DivX | Xvid | FRAPS

Input Audio Formats

AC-3 | MP2 | PCM | AAC

Input File Types

M2V | MPG | VOB| AVI* | TRP | TS | M2T| M2TS | MPEG| MTS | MOV | MP4 | MKV | WMV**

Input Resolutions Supported

1920x1080 and below

Output Video Formats

H.264 (MP4) Baseline Profile, H.264 (MP4) Main Profile

Output Audio Formats

AAC-LC (2 channel)

Languages Supported

English, French, German, Italian, Spanish, Japanese, Simplified Chinese, Korean

*RAW 4:2:0 only
**WMV Pro Audio not supported
System Requirements

Minimum System Requirements
1.6 GHz Intel or AMD dual core CPU
NVIDIA GeForce 8 series or later CUDA enabled GPU
Windows XP 32-bit or 64-bit
Windows Vista 32 or 64-bit

Recommended System Requirements
2.4 GHz Intel or AMD dual core CPU
NVIDIA 8800 GT or later CUDA enabled GPU
Windows XP 32-bit or 64-bit
Windows Vista 32 or 64-bit

Badaboom 1.2.1 Update Released

Badaboom 1.2.1 is now available! For this minor update, we fixed a few glitches that we found in the 1.2 release, including making sure that the application saves your most recent settings for ease of use!



http://download.nvidia.com/downloads/nZone/demos/Badaboom_Setup_1.2.1.7_Trial_Public.exe



-crack:


http://uploading.com/files/WMZ7TE0P/Badaboom.v1.2.1.7_CRKEXE-FFF.rar.html